Rajasthan Travels
::
Wedding & Events
Wedding & Events
Royal Welcome
The Royal Gala welcome is the welcome Accorded by the Royal family for their Royal counterparts and special guests since generations.The welcome starts with the guests being received at 100 yards away from the palace by a elaborate procession of Elephants, camels ,horses with men holding flags,men holding Mashal, This procession escorts them to the main hotel entrance.
Jaipur is famous land of Maharaja's and their rich and famous weddings.
The Rajput Wedding experience is one of its own kind and that too if it is Royal Rajput Wedding we will take you to the dreamland, in the land of Kings and Queens, Maharajas and Maharani's with a whole big line of Decorated Animals like elephants, camels, horses, Butlers, Soldiers, Flowers, fireworks and richness and royalty everywhere.
You will actually be getting married like a real Maharaja or Maharani as the palace has been a place of real life Royal weddings for more then last 280 years..
Baraat
Now the day will be the day of actual wedding ceremony. We suggest special Lawazama of Elephants, Camels, Horses, Men with Mashal , Men with Bhala and Oil torches with Folk Dance Party will make the whole wedding procession a event and the Baratis will enjoy dancing with the music and sound of Indian Wedding Brass Band.
Varmala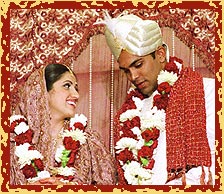 When the groom with his Baraat reaches to brides place, they are welcomed by showers of rose petals and each guest is individually greeted with aarti, tikka and Milni Malas of Jasmine and Mogra , sprays and showers of rose petal. They all come inside . We suggest Royal Chattar and Chanvar of the Groom and Red Chnnu covering for the bride along with her friends for this ceremony and they have to meet each other at Central Square to exchange fresh Flowers Garlands with fireworks from all sides.
Pheras
After Varmala the couple will go to the Mandap specially decorated with flowers for the auspicious and most important ceremony in Hindu Wedding is called Pheras in which they couple will take 7 Rounds of the fire and will take wedding vows to make their wedding legally and morally complete.